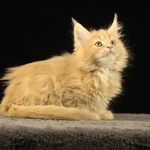 Curiosity had got the better of the young golden haired she-kit; as she had gazed around the camp wide-eyed, her gaze kept drifting back to the same den, over and over. The den smelled heavenly of herbs; lavender, flower petals and something else. She watched as cats entered the den with limps or pains and ventured out with not one instance of pain or agony.
Honeykit was fascinated by the miracle den. The stories of the spore scared her, but perhaps the miracle den was working hard to stop the spore from claiming more. Perhaps the miracle den needed more helpers. Inspired by the idea of a miracle den, the little kit swept her gaze quickly around. No mother, no father. It was clear. She scrambled quickly towards the miracle den, almost tripping up over her own fluffy tail in the process.
Reaching the entrance way, she stood there soundless; her mouth opened wide. Honeykit was in awe about how pretty it smelled and how warm it all felt. Instantly, she felt at home. Honeykit stumbled inside the den and managed to find some supplies. She knew not to touch them - they weren't hers, but she gazed at them in awe. She turned away from the herb supplies and called out, wondering if someone was lurking inside the den. Maybe someone could tell her more about the miracle den.
"Helloooo?"
▲