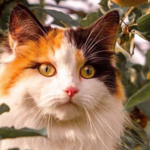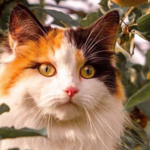 had she always been this flustered by the attention of those around her
?
the morning had begun as one would expect, a rather annoyed and snappy applecloud - the almost complete opposite of her namesake - had risen before the dawn had even had a chance to sniff. her paws had carried her to the felines who would be heading out to mark their borders and ensure that gorgeclan remained in their place and that creekclan would not be greedy and seek more land for the pain and suffering they had endured.
the tom she had awoken last for the patrol and muttered a
five more minutes beautiful
, that had earned him a swift paw to the back of his skull before he fled. she had, had zero tolerance for most things, and the fact that the tom had the audoicity to assume flattery would earn him a few more minutes of sleep was beyond her. the course of the moments following, had her father snickering from where he laid in the far corner of the warriors den, and knowing her father would tell her grandfather.
ears hot as the rocks during the hottest day of green-leaf, the she-cat had stormed from the den in a fury of white, orange and black. her long pelt brush against the taller strands of grass, while her long legs carried her gracefully across the clan. she barked orders for a hunting patrol later that day, before announcing she would be out hunting alone near the lavender field should spiritstar or anyone require her assistance.
she had left in a hast, her paws carrying her across the moorland with an ease that many would think almost impossible. an impossible idea of just changing course and not going to the location she had desired crossed her mind, but knowing her commitment, her desire to be at the ready for her clan mates, called her to the field of lavender. she could smell it before she even reached it fully, and the she-cat felt almost at ease with the alluring smells that engulfed her.
"
finally
" she meowed to herself, allowing her eyes to close slowly, her body to release the negative tension she had awoken with. as much as she knew she would hunt for her clan - in those moments, she needed the peace and the aroma to swallow her whole. she did not even notice the way her body began to become more lax, or how her eyes slowly began to droop. but soon she found herself in a light rest, her ears perked for sounds of danger or trouble, but soon - that too became ineffective, as the she-cat slowly drifted into a light slumber.
bare with my horrible mess of a post