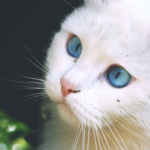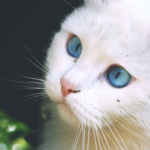 she could almost still imagine the paws that had grasped at her own paws. how they had been muddy brown, seeking to drag her into the pits of the flooded creek. she could only vaguely recall the events leading up to what happened, but those paws, the absence of her mentor and leader, those had felt so very real to her. she had not even noticed when she awoke nearly two nights later in the medicine cat den, that she had experienced anything otherworldly.
'surely it was a mistake, starclan would not torment me so!
' she thought worriedly.
today, the she-cat had finally been cleared to leave the camp. she had been so frighten by the whole ordeal that when she had finally awoken in the medicine cat's den to the black pelt of spiderpaw poking at her, she had nearly tore into him in fright. her scream had been real though, tearing into the sky as if she was being murdered. when they had finally calmed her, having her siblings come in to eat with her and tell her of their worries, she began to realize this was the reality.
berrybloom had ushered her siblings out that night, and sat down with her, asking her what she had seen, heard,
smelled
. she shivered at that thought, the musky smell was almost hauntingly still in her mind's eye, as was the giant vicious newt. her body shivered in fright, almost wanting to escape back into the camp she had just left. she had almost begged her mentor to allow her the time to travel to the sunning stones alone - or at least with the appearance of being alone. she did not care if he followed or trailed her, but she wanted to ensure to him and herself, she could do this.
paws carefully and cautiously pushing forward, she slipped into the territory with a painful ease. as if her steps would be torn from the ground, but as she made her way through the territory, passed the flooded creek that seemed to almost begin it's freeze, she wondered what would become of her, if stoatstar had truly not been with her. they told her she had fallen into a pool of water, and to her mind, she wanted to pray to the stars a strong sense of thanks for her mentor. today,
today is to prove to you i can do this!
she thought nervously, moving in a hurried fashion across the territory.
with each pawstep, she grew closer to the sunning rocks, and a warmth spread through her as she finally managed to climb upon one to sit for her mentor. white pelt fluffed against the harsher cold winds. she blinked up into the sky, praying whatever had become of her last time, would stay away. eyes flickering across the territory, she expected to spot her mentor's orange pelt, wondering if she was just not as observant as she gave herself credit for.
I STARTED A SECOND THREAD, WE COULD CLOSE UP THE OTHER THREAD AND SAY THIS TOOK PLACE A WEEK or so AFTER IT HAPPENED?